Category:Solar Energy
From Green Policy
Solar Power News
Solar Power, Sun Powered
Keeping up with Solar Power

Via Forbes / May 2018
Solar Panels Life Cycle & Recycling
Solar panels often contain lead, cadmium, and other toxic chemicals (e-waste) that cannot be removed without breaking apart the entire panel. For this reason, the whole solar panel is considered hazardous by many experts and governments.
"Approximately 90% of most PV modules are made up of glass," notes San Jose State environmental studies professor Dustin Mulvaney. "However, this glass often cannot be recycled as float glass due to impurities. Common problematic impurities in glass include plastics, lead, cadmium and antimony."
Researchers with the Electric Power Research Institute (EPRI) undertook a study for U.S. solar-owning utilities to plan for end-of-life and concluded that solar panel "disposal in "regular landfills [is] not recommended in case modules break and toxic materials leach into the soil" and so "disposal is potentially a major issue."

End-of-Life Management: Solar Photovoltaic Panets: Report (2016-PDF) from the International Renewable Energy Association (IRENA)
IRENA Finding: "If fully injected back into the economy, the value of the recovered material [from used solar panels] could exceed USD 15 billion by 2050."
Perhaps the biggest problem with solar panel waste is that there is so much of it. All of that waste creates a large quantity of material to track, which in turn requires requires coordinated, overlapping, and different responses at the international, national, state, and local levels.
The first step is a fee on solar panel purchases to make sure that the cost of safely removing, recycling or storing solar panel waste is internalized into the price of solar panels and not externalized... a 'decommissioning fund'.
In July 2018, Washington became the first U.S. state to require manufacturers selling solar panels to have a plan to recycle.
If the industry responds with foresight, it could end up sparking clean innovation including "developing PV modules without hazardous inputs and recycled rare metals." And that's something everyone can get powered up about.
··············································································

At the Forefront of Solar Energy: Manufacturing & Production in China

China reaches its solar energy installation target for 2020, reaffirming its position as largest producer of solar power on earth

China added 10.52 gigawatts (GW) of solar capacity to its national total over the course of July 2017, in addition to the 24.4 GW of capacity that was installed over the first six months of the year. The country is already the biggest producer of solar energy in the world, and that doesn't seem likely to change any time soon.
In the last two months, China has added 24.02 GW of solar capacity. To put that into context, figures from earlier this year put Australia's total capacity at around 6GW, a figure that's projected to double by 2020. The US currently has a total capacity of 44.7 GW.
China has already cleared its goal of reaching a capacity of 105 GW by the end of 2020. The country has now attained 112.34 GW, and as such has tweaked its forecast for 2017, now predicting that this year's installations will total between 40 and 45 GW when all is said and done.
·······················································································
The World Doubled Its Solar Power Capacity in 2016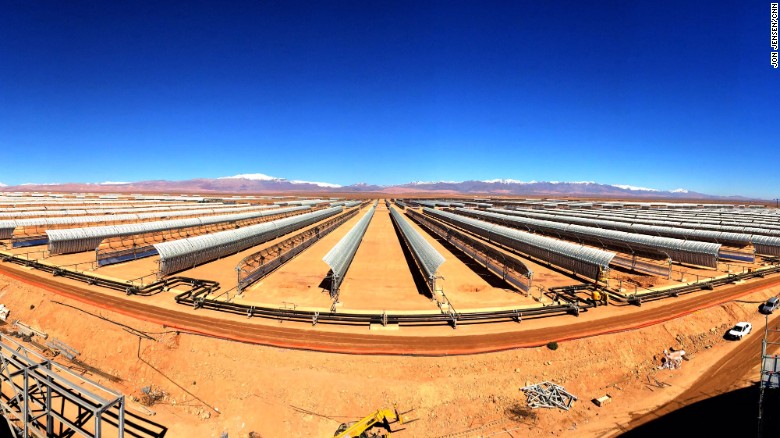 ○ ○ ○ ○ ○ ○ ○ ○ ○ ○ ○ ○ ○
Subcategories
This category has the following 7 subcategories, out of 7 total.
Pages in category "Solar Energy"
The following 87 pages are in this category, out of 87 total.
3

A

B

C

D

E

E cont.

F

G

H

I

J

K

L

M

N

O

P

R

S

T

U

W
Media in category "Solar Energy"
The following 200 files are in this category, out of 417 total.
(previous 200) (
next 200
)
(previous 200) (
next 200
)